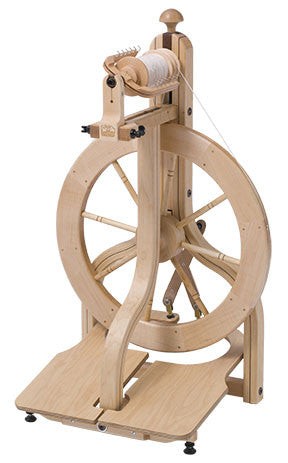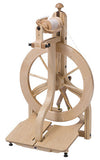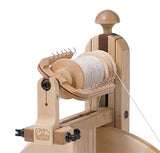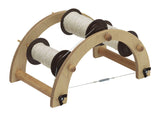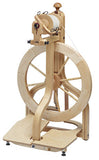 Description
The Matchless Spinning Wheel is the most responsive spinning wheel available today. Whether you choose single treadle or double treadle action, you'll appreciate this wheel's matchless capabilities. The Schacht Matchless Spinning Wheel offers double drive, Scotch tension, and bobbin-lead modes of operation.
The 19.5″ drive wheel and flyer shaft are supported by self-aligning bronze bearings for precise action. Each flyer is individually balanced and the bobbins and flyer whorls are trued on center for long and superior service.
Included with each wheel: 4 bobbins, fast and medium speed whorls, a threading hook, our tensioned, collapsible Lazy Kate, and a carrying strap.
Sold separately: 
High Speed Bobbin
Travel Bobbin
Bulky Bobbin (for use with the Bulky Plyer Flyer)
Additional whorls
For detailed specifications and Manual, please visit http://schachtspindle.com/item/matchless-spinning-wheel/
Free shipping to the 48 contiguous states. Please note that this item will ship directly from Schacht Spindle Company, in Boulder, CO. Once your order is received, you'll receive a separate shipping confirmation with tracking information. 
Want to shop in person? The studio has a full range of demo wheels available for a test drive. For in-studio purchases of any wheel, I offer a choice of either a free 1-hour private lesson, or a pound of spinning fiber to get you started. Plus, I'll assemble your new wheel for you, and show you the best way to secure it in your car.