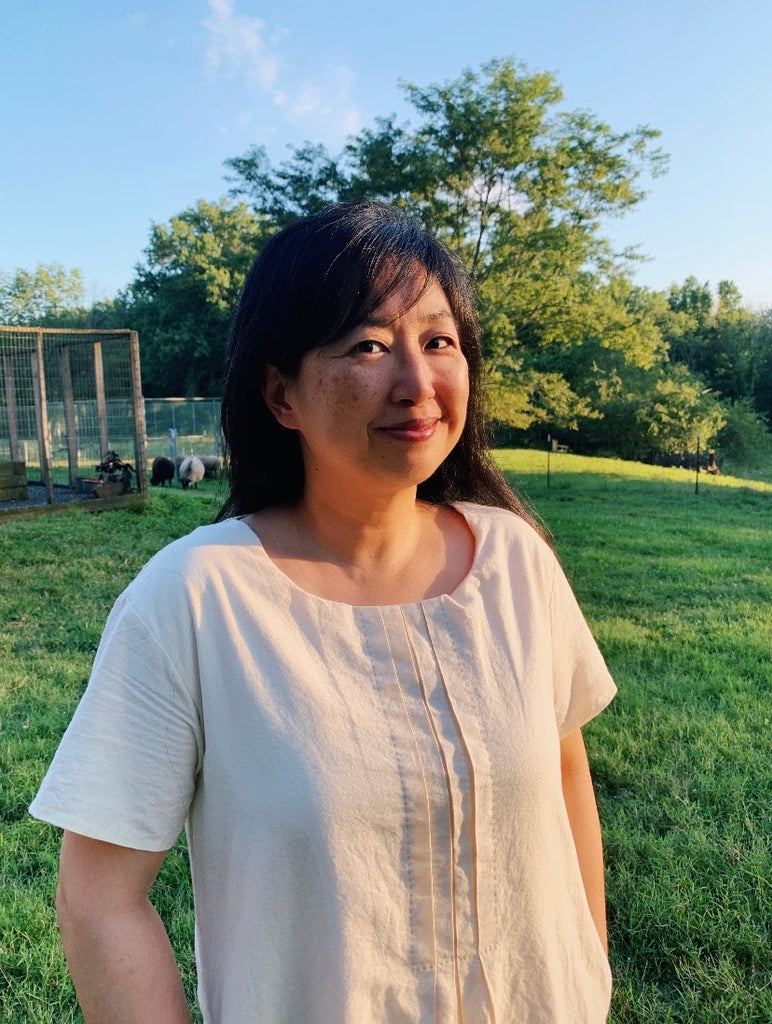 My list of sewing failures is long and varied: the pillow case in 7th grade Home Ec that I sewed completely shut, replacing snaps on a cardigan where I sewed on every snap so they were all "outies," a wine bag that turned out to be an envelope, and the pants that needed altering that I--well, I guess I can repeat my mistakes--sewed completely shut. Buttons are still a mystery: there are usually 4 holes, so do you make an X, or sew from hole to hole in a little square? And when do you know you're done?
When my daughter was 10, Santa gave her a sewing machine for Christmas. It was almost as if Santa knew that her mom required a lot of her pants to be hemmed. Now 19, she's an effortlessly skilled sewist. Three years ago, I borrowed her sewing machine to go to a weekend workshop at Wing & A Prayer Farm. Could there possibly be a kinder, gentler way to learn how to sew than in the warm, nurturing care of Tammy and her farm, and learning from Ellen Mason? Lacking faith in myself, the fabric I took was the curtains that had come with the house when we bought it (yes, The Sound of Music is, in fact, my daughter's favorite childhood movie). I sewed the Patricia Camilla Pinafore with Ellen helping me at every step. She had brought samples in all the sizes, for us try on to determine which size to make. I was in between 2 sizes, and Ellen saw what needed to be altered. Her suggestion was to shorten the straps by an inch, and to cut the front in the smaller size, and the back in the larger size. It was brilliant. My finished pinafore fit perfectly, and for the first time, I had a dress with front armholes that didn't dig into me. I felt like I'd climbed a mountain, and since I couldn't take Ellen home with me as my in-house sewist guide, I didn't think about sewing for the next 3 years.
That is, I thought about sewing a lot, but just as something I coveted. Last year, at the New England Fiber Arts Summit, again at Wing & A Prayer Farm, I complimented an attendee on her Ellen Mason pinafore. She literally whipped it off her body and dressed me in it. 
When I tried to tried to return it, she said she could make a new one for herself in one day. Which just reinforced my suspicion that sewing was something that was way beyond my comprehension. 
My New Year's resolution for 2020 was to not buy any new clothes. Obviously, this year hasn't presented much of a challenge. Just before hunkering down at at home, I was in Atlanta with my kids, touring Georgia Tech for my son. He wants to go to college in a city, so we explored Atlanta as much as possible, gloriously eating our way through the city. At Ponce City Market in between dinner and dessert, we found Topstitch Studio and Lounge, where I bought patterns for the Box Box Dress and the Dress Shirt. My daughter had sewn a Cleo Dungaree dress from Tilly and the Buttons for me last summer, and I planned to convince her to sew a couple more dresses for me. 
When we started staying home in earnest, my daughter got busy sewing masks. We ordered fabric for masks and my dresses from Topstich's online shop, and she sewed so many masks that her baby sewing machine from Santa went on the fritz. She ordered a new one, and left all her sewing things spread out on the kitchen table for days. While she was out walking one day, I opened the Box Box pattern, thinking that I would just start cutting out the pattern paper to spur her into make my dress sooner. The cutting mat, scissors, and pins were all out, and I gave into the temptation to cut out the fabric too.
After looking through finished pictures on Instagram, I decided to cut the back of the dress in two pieces. I wanted a center back seam, and I wanted to shape a rear bump-out. This might seem counterintuitive, because if you've ever seen me in 3D, you know that my rear is barely a bump, with hardly any "out." Which is exactly why I wanted the dress to provide some shape. I learned from the Cleo Dungarees my daughter made for me that I need the dress to create the illusion of hips and a rear bump-out. 
After I cut out all the pieces, I remembered Ellen telling us that fabric should always be washed and ironed before sewing or cutting. Oops. The picture below shows the pattern paper cut to my size, and you can see how much the fabric shrank in the wash. I'd already shortened the hem by a good 1.5 feet; now it was bordering on tunic-length. I pinned the pieces together, found that the circumference still worked, and forged ahead. 
While we'd been home, I'd been mending my holey sweaters, needle-weaving over the holes. Feeling fairly capable with a needle, I started to hand stitch the pleat detail on the front of the Box Box Dress.
The pattern instructions had a Z sewn over the pleats to hold them down. Being a complete sucker for pleats and pintucks, I sewed the pleats like very large pintucks instead of sewing a Z. For panache, I sewed a box around the pleats in a contrasting light grey thread. 
We were still waiting for my daughter's new machine to arrive, so I decided to stitch the entire dress by hand. I mean, what else did I have to do? MDSW, which had been such a big part of my life for the past 10 years, was cancelled, and we had decided to cancel the NJ Fibershed Fiber Farm Market, which I'd spent the past several months organizing. NYC, and then parts of NJ, were crushed by tragedy. Stitching by hand provided me with something I could control, one very small thing amidst the maelstrom of fear, sadness, and anger. 
I ironed on the interfacing and sewed the neckline lining. It was a lumpy and pleated--and not in a good way. Having the lining just around the neckline felt insubstantial somehow. I wanted to line the entire dress. I used the same dress fabric because it was only fabric I had (other than curtain fabric). To figure out how to attach the lining, I followed Ellen's detailed pattern instructions for her Camilla Patricia Pinafore. I cut the lining about 1.5" smaller, because I figured it had to fit inside the shell, and also because I'd noticed from store-bought dresses that a tighter lining means that the shell lays flatter, without gaping or pulling at the seams.
I always thought that having pockets was the greatest benefit of sewing your clothes, but the Box Box pattern didn't have pockets. I traced around a pocket from one of my store-bought dresses, and eventually sewed them into the side seams of the lining and the dress. It took a couple of tries. Because the dress was fully lined, there were like 4 different wrong sides. Sometimes, the layers were so twisted, it was like a Klein bottle of a dress (Felix, not Calvin). 
The pockets were difficult, but I was able to work out in my head how it was supposed to work out in the in the end. But the sleeves? I still don't understand sleeve geometry. The curve at the top of the sleeve bears no relation to the armhole curve on the body of the dress. But, you know, people have been wearing sleeves for centuries, so I did believe that it could be done. I started at the top center of the sleeve, where it would meet the shoulder seam of the dress body, and worked down on each side. I ran out of sleeve when I still had armhole to cover. I ripped it out and did it again. And did it a couple more times before I was able to fudge it all together. What was really frustrating was that I'd become competent at sewing by then, and it sucked to rip out a nice-looking seam. The picture on the right shows a seam I was particularly fond of, that I wanted to preserve with a photo before I ripped it out. I think what happened is that the when the fabric shrank in the wash, the sleeves and armholes didn't shrink in proportion with one another. 
When I needed a time out from sewing, I worked on learning 매듭, Korean decorative knots. It was a steep learning curve, but when I got the hang of it, it became addictive and I couldn't stop making little knots. The Box Box has a button loop closure at the back (whew, getting the slit to work with the lining was its own challenge), and I was excited to use one of the knots I'd been churning out as a button.
I'm gearing up to sew the Dress Shirt dress next. And yes, I've already washed and ironed the fabric.