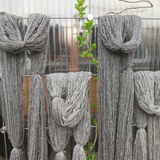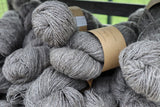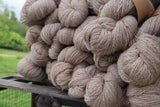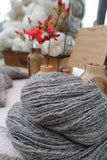 Description
Home-grown & farm-fresh yarn! 
Vintage No. 9 is a light fingering weight blend of Shetland, kid mohair, and tussah silk. In 2 cool natural colors with a texture that is crisp and full of life. At such a fine weight, the individual characteristics of each fleece stand out: a tuft of Shetland, a pouf of mohair curl, a shot of silk is visible throughout the skein. Vintage No. 9 has subtle variation in thickness and twist, creating a fabric that looks slightly heathered, like weathered barn wood.

Stone is a true cool grey shade. The color comes from black and grey Shetlands, blended with white and black kid mohair.

Biscuit is a cool golden tan, from mioget (light brown) and fawn Shetland fleeces, blended with white and blonde kid mohair.

Light Fingering Weight
Shetland/Kid Mohair/Tussah Silk, 70/20/10

Gauge: 28 - 32 sts = 4" (10 cm)
App. Weight / Yardage, Stone: 3.5 oz /500 yd (100 g/457 m)
App. Weight / Yardage, Biscuit: 3.5 oz /450 yd (100 g/411m)
Care: Hand wash in cool water and dry flat
Please note that due to the variation in fleeces, the Stone yarn is slightly finer than the Biscuit yarn.

As with all Vintage yarns, fleeces and rovings are hand-selected as the best of its kind and for the unique qualities it contributes to the final blend. I look for fibers that are are extremely soft but resistant to pilling. Minimal and gentle processing without the use of harsh chemicals means that there will be vegetable matter, but it also means that the yarn retains its sheepy characteristics and organic, bouncy handle.
Swatching is always recommended. Farm yarn is livelier than commercially spun yarn, and blooms significantly after blocking.